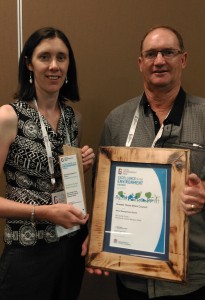 We would like to take this opportunity to congratulate all of our project partners!  We have won the State Weed Management Category at this year's Local Government Excellence in the Environment Awards for our Red Guide Post Project.
Paula Bosse, Riverina's Noxious Weeds Project Officer accepted the award on behalf of Greater Hume Shire Council (host agency), ERNWAG & WRNWAG (Project Manager) and all 33 partnering councils.
Red Guide Posts – Riverina & Central Western NSW – Winner – Division C and Overall Winner of the Weed Management Category!  Paula was presented with individual certificates for each partnering Council to frame and put on display.
RGP – media release December 2014
Share